LUNDUDNO
Only 18 km from the centre of Cape Townand approached by one of the most scenic drives, over Suikerbossie Hill fromHout Bay or in the other direction fromCamps Bay, along Victoria Road,Llandudno lies nestled in a private and peaceful cove with one of the most secluded and beautiful beaches in the city.
Llandudno might be an upmarket suburb with properties fetching well into the millions, but its residents regard it as something of a coastal town and the suburb has no street lights or shops of any kind. This is reinforced by the fact that Llandudno is accessed by only one road and there is minimal parking for visitors to the beach. Llandudno, named after the Welsh town of the same name, lies in the shadow of mountains.
The Twelve Apostles stretch off to one side, whilst Little Lion's Head and the Karbonkelberg Mountain sweep off in the other direction. The beautiful beach, renowned for its white sands, crisp blue waters and giant boulders is arguably one of the most photogenic in Cape Town and a favourite for beach sports like volleyball, beach rugby, surfing; a great deal of sun-worshipping and a preferred picnic spot for families.
Llandudno Beach
The beach remains unspoiled and the countryside fynbos stretches off in both directions, largely untouched. A 20 minute walk from Sunset Rocks brings one to Sandy Bay, the famous nude beach, and a five minute drive takes you over the hill from Llandudno to the village of Hout Bay, where there are plenty of restaurants, shopping centres and other options for the whole family.
Llandudno offers no restaurants or shops (which keeps the suburb private and exclusive). Just a short 5 minute drive takes you over the hill to the vibrant, lively community of Hout Bay. Hout Bay is a delightful fishing village with plenty of restaurants, upmarket shopping centres, endless tourist attractions, fun activities for the whole family and there are excellent options for holiday accommodation in Hout Bay.
CAMPS BAY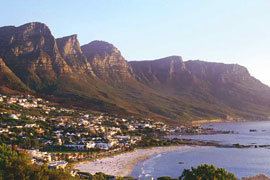 Under the looming Twelve Apostles and Lion's Head as a backdrop and views out across the turquoise-coloured sea, Camps Bay sports some of the trendiest places to see and be seen at.
Head south from the beaches of Clifton (or north from the buzz of Sea Point) and you'll discover the chic suburb of Camps Bay. Victoria Road is the main drag and is packed with funky restaurants, trendy pubs, and bucket-and-spade shops on one side, with a palm-fringed beach on the other.
CLIFTON
Clifton, probably the most famous beach in South Africa, attracts swathes of scantily clad locals and tourists onto its white sands and (less frequently) into its freezing waters every year. With Table Mountain and Lion's Head forming a spectacular backdrop and with good protection from the summer wind, it's no wonder it's considered one of the world's finest beaches. It quite literally bakes.
Though occupying one bay on Cape Town's Atlantic Seaboard, Clifton is, in fact, divided into four distinct beaches separated by rocky outcrops. The most southerly of the lot, and the largest and most accessible, is 4th Beach, which has Blue Flag status and attracts the biggest crowds; on sizzling summer days there's barely room to move, as bodies, towels and umbrellas cover the sand.
BANTRY BAY
Set within some of Africa's most prized real estate, Bantry Bay overlooks Clifton, on Cape Town's magnificent Atlantic Seaboard. It lies between Sea Point and Clifton, and to reach the suburb one can drive along Victoria Road. Bantry Bay was originally the site of a terraced botanical garden, established in the early 1800's, with the first home being built there in the 1920's. Little of this rural atmosphere is left today, as Bantry Bay is now a trendy residential area, with clusters of hotels, flats and holiday homes. The splendours and brilliant activities that Cape Town is renowned for are all within a short distance of Bantry Bay and visitors can enjoy spectacular Atlantic Seaboard bikini beaches, or the bright lights of the Cape Town City Bowl. Also within a short distance is the Victoria & Alfred Waterfont, which offers a great shopping experience as well as a chance to take a boat around the harbour. Be sure not to miss a trip to the notorious Robben Island, the place where anti-apartheid activists including Nelson Mandela were incarcerated.
SEA POINT and GREEN POINT
Up to the thirties, Sea Point was a little seaside resort out of town, where affluent Capetonian citizens had their holiday and weekend homes. From the fifties on, highrising apartment houses were erected. Similar to Hillbrow and Johannesburg, it was regarded to be chic - á la New York - to live in a high building.
The promenade of Sea Point, which stretches toMouille Point is also very popular. It is a jogger's mile and many people meet here for a walk and a talk. The beaches in Sea Point are not very good for swimming. The surf is too powerful and the coast too rocky. But there is the huge seawater swimming pool.
The neighbouring suburb of Green Point is famous for its big Sunday market; a fleamarket with thousands of stalls around the stadium. Mainly African arts & crafts are being sold here.
Sea Point has a different face nowadays. "Upper Sea Point", on the slopes of the Signal Hill is characterised by expensive private mansions. Down at the sea promenade you find a long row of luxury apartment blocks. In between lies the Main Road with pubs, music clubs, coffeeshops and some good restaurants like the Chinese Mr Chan or bistros like the lively New York Bagel. But also stripclubs, brothels, gambling places, drug trafficking and the like can still be found here.